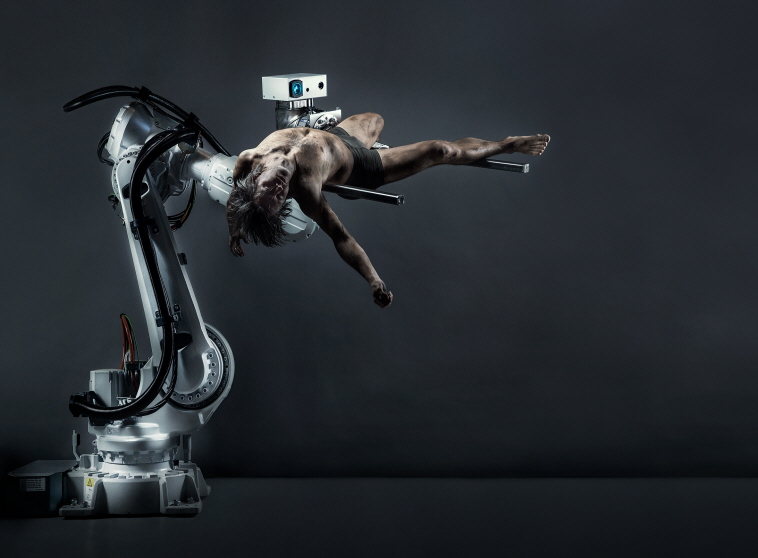 Stockholm House of Culture & City Theatre
The mystery and great surge of the creative power of Spring. The cycle of nature - both violent and beautiful, where something has to die so that new existences can sprout. Spring's regeneration, summer's explosion of life, the woeful farewell of the autumn and finally, decomposition. Fredrik Benke Rydman's choreography of The Rite of Spring, holds the balance between technology and nature in focus. If disturbed, nothing can live.
A performance in two acts containing both original and contemporary music, Fredrik Benke Rydman is on stage in a playful duet with an industrial robot, 20 street dancers and 5000 litres of water.
The Rite of Spring was performed for the first time by the Russian ballet at the Théâtre des Champs Élysées in Paris, May 29 1913. An intriguing modernist dance drama, composed by Igor Stravinskij.
Act 1 in cooperation with ABB.
Director and choreographer Fredrik Benke Rydman
Music (Act 1) Johan Liljedahl
Music (Act 2) Igor Stravinskij
Set design Lars Östbergh
Costume design Lehna Edwall
Light Palle Palmé
Sound Simon Mårtensson
Make up Maria Reis
Video Anders Granström, Andreas Skärberg, Pixelfield
With Fredrik Benke Rydman, Amanda Arin, Daniel Asamoah, Daniel Koivunen, Daniel Gürow Lundkvist, Edin Jusuframic, Ellen Lindblad, Hanna Jansson,  Jonna Hökengren, Kenny Lantz, Kevin Foo, Kyra Althén Bergman, Lamin Camara Holmén, Lisa Arnold, Marco Wihlborg, Martin Jonsson, Mia Hellberg, Milena Jacuniak, Pauline Eddeborn, Pawel Krupa, Stacey Aung, Niklas Capel

Target group Adults
Duration 90 min
Contact malin.brereton@stadsteatern.stockholm.se