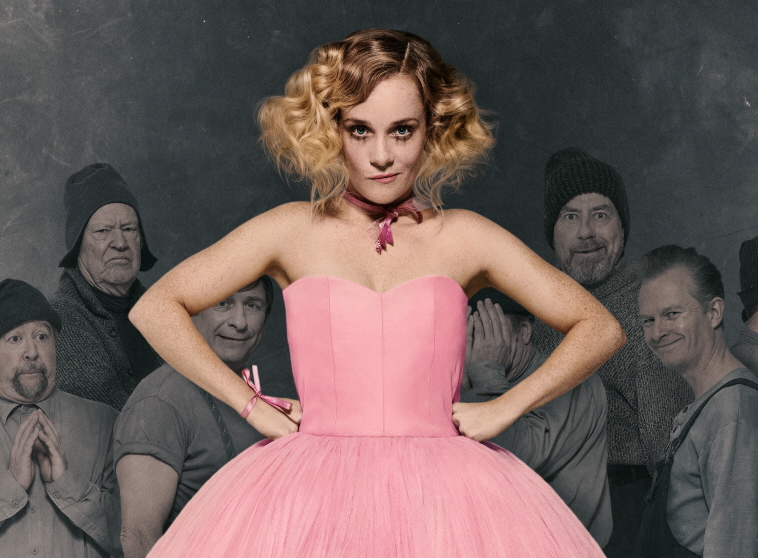 Stockholm House of Culture & City Theatre
It is Christmas Eve in the cottage of the dwarfs. Since Bitter died in a mining accident there are only seven of them left.
Time just passes by - Sleepy downs his sleeping pills (too weak), Grumpy gorges himself on mood stabilizers (ineffective), Sneezy has respiratory problems and Doc is an irritating wiseass. As per usual.
But finally, something seems to be happening. A huntsman leaves a box with a princess in it in the mine. A gorgeous princess. Are they going to let her out?
Before they have had time to reach a conclusion, Snow White kicks the lid out and uses her knowledge of martial arts to gain control over the cottage. Help!
The play is a twisted comedy that toys with dramatic convention – and takes the audience as far from Disney as it is possible to get. The duo Staffan Valdemar Holm and Bente Lykke Møller have made a gleeful assassination attempt on 'Snow White' as we know it.
By Staffan Valdemar Holm
Set and costume design Bente Lykke Møller
Light Torben Lendorph
Make up Maria Lindstedt
Music arrangements Jeanett Albeck
Sound Johan Ehn, Camilla Näsström
On stage Maja Rung, Sten Ljunggren, Lennart Jähkel, Ole Forsberg, Göran Ragnerstam, Fredrik Zetterström, Sven Ahlström, Niklas Falk
Target group Adults
Duration 120 min
Contact louise.rich@stadsteatern.stockholm.se