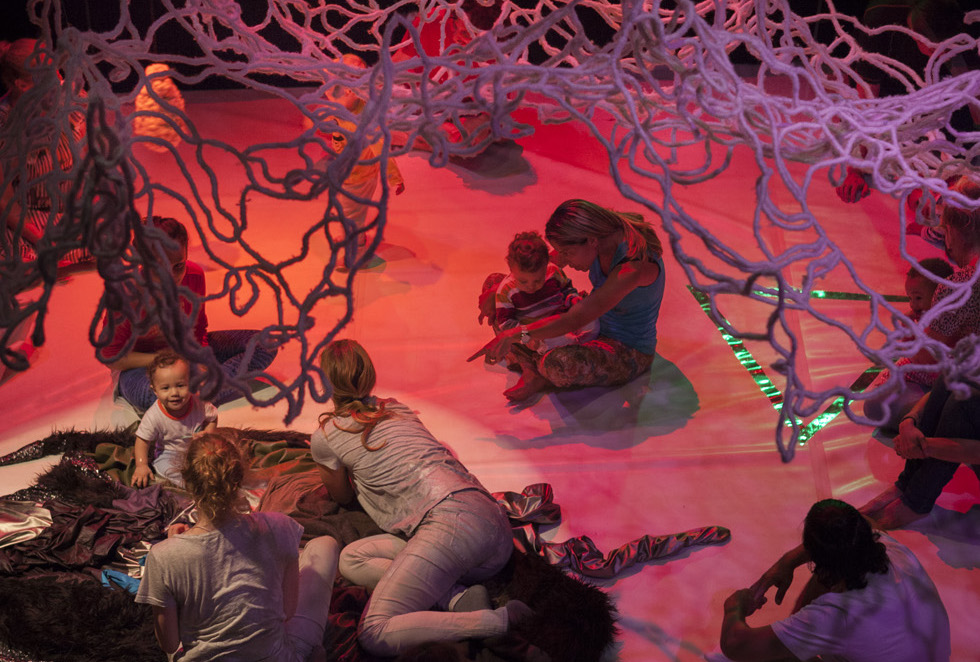 Photo: CLAP for Panorama festival, Rio de Janeiro
Sensescapes
– A contemporary dance performance for babies 3-18 months
Sensescapes proposes a choreographed, interactive and multi-sensory experience to babies 3-18 months old and their care-takers. It is conceived as an installation based performance, designed to challenge usual conceptions of aesthetics for babies, which consists of visual, tactile and auditory elements, aiming to induce interplay of the audience's physical movement and sensory input. Sensescapes unfolds a series of carefully composed, interconnected events which aim to involve its audience, trigger their curiosity and encourage their agency in landscape rich in stimuli.
The interrelational ecology which emerges from the placement of children and carers within a safe, immersive environment creates a community which itself reflects and embodies the performance aesthetic. The audience becomes a collective of actors in their own story, emancipated from the fixed viewpoints and semiotic codes of conventional dance. Space, action, reaction and perception are reconfigured to encourage agency, and thus emancipation. Excerpt from "The Emancipated Baby" by Ben Fletcher-Watson on Sensescapes
The performance concept and contents are created in accordance with the latest developmental research concerning perceptual, cognitive, and social abilities in infants.
Concept and choreography: Dalija Acin Thelander in collaboration with the performers
Music: Anja Djordjevic
Stage design: Dalija Acin Thelander in collaboration with Erik Annerborn and Jens Sethzman
Light design: Dalija Acin Thelander and Ronald Salas
With: Kristine Slettevold, Rebecka Stillman, Josefine Larson Olin
Co-produced by Weld (Stockholm) and Kulturhuset Spira (Jönköping), Sweden
Supported by Swedish Arts Council, City of Stockholm and the Swedish Arts Grants Committee
---
Target group: 3-18 months
Duration: 30 min
Language: non verbal
---